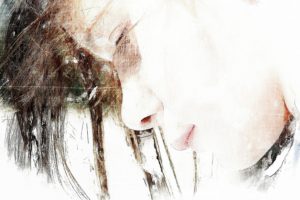 Luann crept into the girls' room to check on them while I turned off the lights and made sure the doors were locked. Then I dropped into my favorite chair and let out a long sigh. My mind was swimming. Looking around the house, a part of me was stunned that Luann was willing to give it up and the lifestyle that went with it. She would be giving up her family and all of her friends.
I would've liked to believe that she was doing it because she loved me so much she couldn't live without me. She did prefer me, and she loved me in her own way. But the driving force behind this decision had less to do with me and more to do with her hatred of Frank.
Over the next few days as we formed our plan, we decided that if we went to Texas, we'd make a new life for ourselves in the deep south. I'd been there a number of times and liked the area around Corpus Christi. We chose the town of Victoria, which was within a two-hour drive of Houston, San Antonio and Austin, and close to Corpus Christi. Located on the coastal plains, it was about 50 miles from the Gulf of Mexico and 20 miles from the nearest bay. It sat just east of the Guadalupe River, in an area considered subtropical.We chose a time to leave when we knew Frank wouldn't miss us for three weeks. Packing didn't take long since all we could take was what would fit into my pickup. We didn't tell anyone we were leaving, not even Robert. The only exception was my sister, Rene. She'd proven her steadfast faithfulness to me for years and I couldn't just disappear without a word. I gave her a number to reach me in case of an emergency.
When we pulled out of the driveway one beautiful, sunny morning, no one suspected a thing. The trip to Victoria was uneventful. When we arrived, I rented somewhere between 30 and 40 acres with a new double-wide mobile home on the property. We'd brought all the cash we could get our hands on and I used part of it to buy cattle. I bought and sold cattle to earn a living.
Although we were busy settling into our new place and starting over, we counted down the days until Frank was scheduled to get the girls. While we stayed to ourselves, always looking over our shoulders, we were almost giddy with relief to be out from under the constant pressure.It wasn't Southern California, but the land was a green with rolling hills. I left when I needed to buy or sell cattle and we went to town for groceries and supplies. Otherwise, we kept to ourselves.
Although Luann had led a privileged life, she transitioned into country living in a mobile home pretty well. She and the girls helped with chores and we soon settled into a routine. I'd always loved children and Luann's daughters were no exception. We had a great relationship. They were too young to know what was going on; they just thought we were on a wonderful vacation. They romped and played without a care in the world. During the day, they climbed fences and jumped in the hay. We listened to the lowing of cattle, chirping insects and the occasional late night singing of a coyote.
Frank was always in the back of our minds. We wondered what kind of rage he'd flown into when he realized we were gone. We couldn't help but wonder if he'd caught our scent and was on our trail. We watched every car or truck that came near. We kept a watchful eye on our surroundings, on people and in the rearview mirror.Constant watchfulness was like a program that always kept running in the background, night or day. Aside from that, our lives were peaceful. There was something restful about the land and the sound of katydids in the afternoon. Our phone seldom rang. When it did, it was someone calling about cattle. There was no rush-hour traffic. No schedule filled with a dozen places to go.
A simple life.
Months passed with no connection to our past. There were none of the usual calls from Luann's parents wanting to see the girls, or inviting us to dinner. Our family and friends were collateral damage that we felt bad about. Mind you, not bad enough to contact them, giving Frank even a glimmer of our location.In retrospect, I realize that those peaceful days were like the surface waters with a tsunami swelling out of sight. I didn't think like a criminal so I never imagined what Frank might do when he couldn't find any trace of us. While we watched the sunset and the girls chased lightening bugs, we had no way of knowing the plan he'd hatched. Purchase On Amazon
Many have felt abandoned by God in their times of greatest need, asking God for help but not receiving what was asked for. Does this mean that God doesn't care or that He is ignoring our cries for help? When we cry out for Him, asking Him to stop the pain and suffering, we are communicating a universal desire to avoid hurt. That is not weakness, but it is human.
The Bible records several testimonies of those who called out to God in a time of need and, at least for a while, were met with silence. Job is the most obvious example, as in his distress he felt as if God were nowhere to be found: "If I go to the east, he is not there; if I go to the west, I do not find him. When he is at work in the north, I do not see him; when he turns to the south, I catch no glimpse of him" (Job 23:8–9). The psalmists also struggled with the feeling that God was not responding to their cries: "Why, LORD, do you stand far off? Why do you hide yourself in times of trouble?" (Psalm 10:1); "How long, LORD? Will you forget me forever? How long will you hide your face from me?" (Psalm 13:1); "Why do you hide your face and forget our misery and oppression?" (Psalm 44:24).
Jesus understands the mindset of not wanting to experience pain and suffering. In the Garden of Gethsemane, just before His arrest, Jesus asked His Father three times, "My Father, if it is possible, may this cup be taken from me. Yet not as I will, but as you will" (Matthew 26:39) (also see Matthew 26:42 and Matthew 20:22). Though He asked for the "cup" to pass, Jesus asked with the condition "if it is possible." Jesus was in complete submission to God's will and not His own. If His suffering was a part of God's will, then He was willing to accept that.Source
StevieRay Hansen
MY MISSION IS NOT TO CONVINCE YOU, ONLY TO INFORM…
Evil men don't understand the importance of justice, but those who follow the Lord are much concerned about it. ~ Proverbs 28:5
Jesus come quick, there is nothing left in society that's sacred….
It is impossible to find anyone in the Bible who was a power for God who did not have enemies and was not hated.
Evil Exists So Spiritual Warfare Becomes Necessary!