God Can Vanquish Your Enemies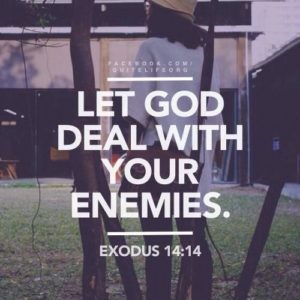 Psalm 143:12 (KJVA) And of thy mercy cut off mine enemies , and destroy all them that afflict my soul: for I am thy servant.
Jesus taught his disciples to respond to enemies in unexpected ways—ways that sometimes "disarm" them. "If anyone strikes you on the right cheek, turn the other also; and if anyone wants to sue you and take your coat, give your cloak as well; and if anyone forces you to go one mile, go also the second mile." Jesus' disciples respond in concrete ways to their enemies. They do not retaliate or seek revenge.
They pray for their enemies. They do good to those who want to harm them.
Matthew 5:39-41; Matthew 5:44; Luke 6:27; Romans 12:17-21
A Psalm for Comfort and Courage
Psalm 23 is one of the best known texts of the Bible, and it's used to comfort the hurting and wounded. It also holds a gem that enables us to live with courage while in the midst of opposition. Enemies like insecurity, pride, fear of failure, and sabotaged success. These enemies whisper that you can't, you're not good enough, that you're unequipped, uneducated, and unforgiven.
I used to think that people were my enemies, and I would hold onto a list of names and the wounds associated with each. This person said that and that one did this. But this is what I've discovered: I have one enemy, and he is a liar and a deceiver. His mission is to kill, steal, and destroy using whatever means necessary. He uses people and situations to play on my interior enemies of pride, insecurity, fear, rejection, doubt, and worthlessness. And he does the same thing to you, and at one time, me…
Each one of us has a Holy Spirit-designed purpose where the fire of His spirit flows through us for the benefit of others. Ephesians 2:10 echoes Psalm 138:8, "The Lord will fulfill His purpose for me; your love, O Lord, endures forever—do not abandon the work of your hands." And the enemy of our soul will come at us with guns blazing and flaming arrows, often using other people, life's disappointments, and our flawed understanding as the carriers for his weapons.
Psalm 23:5: "You prepare a table before me in the presence of my enemies; You anoint my head with oil, my cup overflows."
It's not the absence of my enemies that makes me courageous, but God's presence in the midst of my enemies. Insecurity waves to me from the distance. Pride sneaks in close. Rejection raises its dagger. Failure mocks me. But my eyes are riveted to the table filled with abundant hope, peace, love, joy, confidence, courage, assurance, endurance, steadfastness, happiness, power, a sound mind, and laughter that God prepares.
Because of fear, pride, rejection, doubt, insecurity, worthlessness I had created in my mind a whole list of enemies which kept me captive to the enemy…
StevieRay Hansen
MY MISSION IS NOT TO CONVINCE YOU, ONLY TO INFORM…
Evil men don't understand the importance of justice, but those who follow the Lord are much concerned about it. ~ Proverbs 28:5
Jesus come quick, there is nothing left in society that's sacred….
It is impossible to find anyone in the Bible who was a power for God who did not have enemies and was not hated.
Evil Exists So Spiritual Warfare Becomes Necessary!