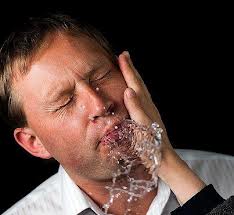 I pulled up next to the cruiser and rolled down my window. When she looked up at me I said two words.
"You're leaving."
I drove home and started boxing her belongings. She walked in the door looking like a kid who'd been caught with her hand in the candy jar. "This is best," she said. "You keep the kids."
Cody was still an infant.I sent her home to her parents and kept the boys. I knew they were better off with me, but they didn't know it. All they knew was that their mother had disappeared. They cried for her. Wailed for her. Begged for her. And it broke my heart.Doris' mother called one morning and said, "She misses those kids so much its eating her alive. If you send them here, I'll make you two promises. I promise they'll be well cared for. And I promise that we'll get her help."I could have never let them go if I hadn't watched them grieving for their mother. When I packed up my children and took them to her, I felt my heart shatter into a million pieces. There I was alone. Again. Without a family.
I paid child support and Doris got a place for her and the boys. I arrived to pick them up at 11am one morning and walked inside to find people laying around half drunk in a mess of empty whiskey bottles. In the kitchen, I found an empty refrigerator and empty cupboards. The boys were dirty and hungry. I took care of their short-term needs and then went to court and sued for custody.We fought over custody for years. In those days, it was rare for a father to get custody of his children. Doris was bitter and angry and she told the judge that I was on drugs and alcohol. Not only had I never done drugs, but I'd never been able to drink. Three beers made me too sick to function. Doris was a convincing liar; I gave her that. She spun her lies and the judge bought her stories just like I had. She continued to win custody.
I found out later that she'd taken the boys to the post office and shown them pictures of the FBI's Most Wanted List. She told them that I was a criminal and that the FBI was looking for me. The boys believed her, especially Cody, the youngest. When he was older, he called the FBI and said, "My dad's been wanted by the FBI for years. I want to turn him in."
The FBI explained that I wasn't wanted by the FBI or anyone else.I'd received one good piece of advice from a friend when Doris and I split. He told me to keep copies of all the child support payments I sent. Every month, I paid by money order from the 7-11 and kept copies of all the receipts.
Although I didn't know it at the time, Doris told authorities that I hadn't paid any child support and she'd filed for and received welfare. When I found out what was happening, I went to the district attorney's office and dumped a bag of receipts on his desk. I had proof of every payment. The DA was stunned and filed charges against Doris. She might have been a great liar but she couldn't lie her way out of all those receipts.The judge sent Doris to the county jail for fraud and the court released me from paying any further child support payments. But I couldn't stop supporting my children just because their mother was a mess. I continued to send child support.The next time I talked to my parents I told them I was divorced. "Divorced!" my mother screeched. "As if you haven't brought enough shame on us? We're ashamed to call you our son! We're too embarrassed to hold up our heads because of you!"
While I was finalizing the rest of the legal work, I decided to change my name. My grandfather, Audrey T. Hansen had always loved me and treated me well. I took his name. Instead of Stevie Ray Bumpass, I was now Stevie Ray Hansen. No point in embarrassing them more than necessary. In truth, I wanted more distance between my parents and me. I wanted to stop the pain but nothing helped. I couldn't fix it so I did the only thing I knew to do. I ran from it. For years I only communicated with them through my sister.I carried so much guilt. The way I saw it, I must have been a hell child for them to despise me that much.I went back to the rodeo circuit, pretending to be whole.Now, finally, I had a woman's love. Luann loved me. She wanted to marry me. To make a family with me. I wouldn't walk away from that. I would take on the whole damn mafia if that's what it took. Frank D'Angelo had no idea who he was messing with.
Finally, these are simply helpful tips on how to grow in your new faith; they are not a list of requirements to become a Christian or to stay a Christian. You have been saved by grace through faith, apart from any works of your own (Ephesians 2:8-9). God started the work in you, and He promises to finish it (Philippians 1:6). God bless you as you continue to mature in your faith!
StevieRay Hansen
MY MISSION IS NOT TO CONVINCE YOU, ONLY TO INFORM…
Evil men don't understand the importance of justice, but those who follow the Lord are much concerned about it. ~ Proverbs 28:5
Jesus come quick, there is nothing left in society that's sacred….
It is impossible to find anyone in the Bible who was a power for God who did not have enemies and was not hated.
Evil Exists So Spiritual Warfare Becomes Necessary!